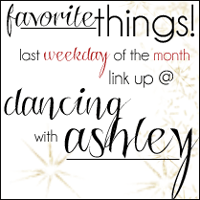 I'm finally remembering to link up (even if I am a day late), with Ashley to show off my favorite things for the month of July.... And these are some things that I am just in love with, so I got extra excited and decided to give them away too!
1. Mara Mi notecards
Really, I'm in love. They're great quality and thick,
with precious little details like that porcupine on them.
$4.99 - Target
2. Que Bella face masks
These little treats are my favorite for a relaxing night at home, spending a
little time taking care of myself. Individual packets let you try as many
different types as you would like!
$2 each - Target
3. Almay Eye Makeup Remover Pads
These define "take the day off" for me. I'd be lost without them each night!
They're soft, and so easy to use quickly. They were a game changer for me when I
was struggling to get all my eye makeup off at the end of the day.
4. Healthy Sexy Hair Soy Tri-Wheat Leave In Conditioner
I am addicted to this stuff. I am ROUGH on my hair,
drying and heat styling it every single day.
This saves it with a few spritzes each morning.
$3ish for the small size - Ulta
5. Bath and Body Works home favorites
I love my small B&BW candles, and especially have gotten addicted
to my Wallflowers. The "Flower Shop" scent is
currently all over our house and I love it.
5. Tumblers
If I see an awesome tumbler or cup, odds are it is coming home with me.
I've been making my own iced coffee most days and have gotten better about
grabbing a cup of water to run around with when I'm
out and about. I thought this one was precious!
$7.50 - Old Navy
Those are what I'm ABSOLUTELY loving this month.
Now it's time for the fun part!
Enter to win one of TWO prize packs!
The first one will have everything shown here,
and the second will be a slightly smaller version!
a Rafflecopter giveaway
XOXO and good luck,
Mrs. Jones