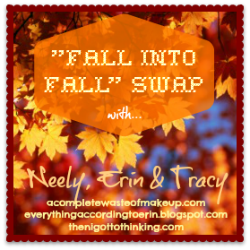 Fall is (obviously) my favorite time of the year, and I joined up with the "Fall into Fall" Swap Neely, Erin and Tracy hosted recently! My sweet partner was
Jessica from Fantastically Average
- and even if she hadn't sent me such a great box (which she did), I'm so glad I found her and her blog. We think we are long lost friends already since we have so many similar qualities!
The funny thing is that when I got home and opened my box, my husband was hovering. Like, big time. He got excited too. He kind of snatched the Pez and candy corn and retreated to his office. It was pretty cute. Eve Belle got her FAVORITE box of treats in the package as well. (Jessica, I have NO idea how you knew that one.... Hugs are her favorite treats ever, and she saw the box when I was unpacking it! The tail wagging commenced immediately.) So, my fall swap box was actually a treat for the entire family. That made me giggle.
The candle is in use, and I'm ready to do my nails with the Halloween Sally Hansen Salon Effects in a few weeks. The EOS lip balm is already in my purse, and the magazine has been read and passed on to a friend to share the love a little bit.
I'm so excited for Fall. Can you believe it's FINALLY here? It feels like summer and hot weather lasted forever for some reason this time. I'm ready for cardigans and fuzzy shoes and light scarves.... And it's about that time!
Happy Fall y'all! Hope it's a wonderful one for each and every one of you! (And thanks Jessica!)
XOXO,
Mrs. Jones